Description
Bite toothpaste is gaining popularity nowadays due to its cruelty-free oral care products. The good thing about these products is that they minimize waste, making them beneficial to the environment.
Among the most popular offerings of the brand are the chewable toothpaste bits. They serve as sustainable alternatives capable of eliminating chemicals and plastics utilized by providers of traditional and typical toothpaste.
How Bite Started?
Bite is a brand built with natural ingredients and sustainability in mind. This means that its unique identity includes being one with the others who plan to save the environment. The leader behind the brand is Lindsay McCormick who was able to create the toothpaste bits after discovering the amount of waste used in making travel toothpaste tubes.
This prompted her to research alternative yet eco-friendly solutions for travel toothpaste, which also made her realize the huge number of unwanted and unnecessary chemicals integrated into typical toothpaste. This caused her to create her own.
Her goal is to make a sustainable and waste-free replacement for messy commercial toothpastes laden with chemicals. This replacement should have ingredients sourced sustainably then pressed into toothpaste tablets capable of cleaning and protecting teeth. A refillable glass bottle will then be used, further making the entire product as eco-friendly as possible.
An Overview of Bite Toothpaste Bits
As the name suggests, these toothpaste bits from Bite refer to small and bite-sized toothpaste tablets manufactured and designed in a way that they can replace your standard toothpaste. This review would like to highlight that these are chewable toothpaste tablets that offer convenience to users.
They have the advantage of being vegan and easy to use. The bits also contain ingredients with the least amount of chemicals compared to regular toothpaste. Aside from that, it was also created in a way that avoids the use of artificial flavors, cheap fillers, and artificial dyes.
Basically, these tiny toothpaste tablets come stored in glass bottles. You can expect them to foam up quickly, turning into toothpaste upon chewing. Two of its varieties have minty taste, so it is also highly likely for you to enjoy a burst of fresh mint flavor that feels and tastes good upon popping them into your mouth.
Common Ingredients of Bite Toothpaste Tablets
While the toothpaste tablets are available in different flavors, this all-natural and vegan product has all or a few of the following ingredients:
Xylitol, which is a natural sweetener capable of repelling bacteria that may cause cavities
Calcium carbonate, known for being a mild abrasive capable of cleaning and polishing teeth
Erythritol, which aims to save your teeth from the buildup of bacteria causing cavities
Sodium Cocoyl glutamate, which is the reason why the tab foams up
Guar gum, which helps in ensuring that the bits are kept together before each use
Sodium bicarbonate, which aids in maintaining the pH level balance inside your mouth
Nano-Hydroxyapatite nHAp, which aims to save you from sensitivity and remineralize tooth enamel
You will get to know more about the content of each flavor of toothpaste tablets or bits in the next section of this review.
Flavor Options
Bite Toothpaste Bits manage to provide a couple of flavor options – fresh mint, berry twist, mint with activated charcoal, and the seasonal one called autumn spice. This means giving buyers the chance to pick one that cans save them and improve their teeth.
Here are your options plus the organic ingredients also recommended by dentists.
Fresh Mint
You should go for the fresh mint flavor if you decided to use a naturally whitening option. This fresh mint toothpaste tablet with whitening function has the following components:
Xylitol
Natural peppermint flavor
Calcium carbonate
Erythritol
Menthol
Rice extract
Silicon dioxide
Zinc citrate
Sodium cocoyl isethionate
Guar gum
Mint Activated Charcoal
For surface stains and those who love coffee, tea, or wine, this review highly recommends the use of mint activated charcoal over fresh mint toothpaste tablets or bits. These mint toothpaste bits have activated charcoal capable of detoxifying and dealing with surface stains that are kind of hard to remove if you are using regular toothpaste. It has the following:
Natural mint flavor
Erythritol
Calcium carbonate
Xylitol
Hydroxyapatite (nano)
Sodium cocoyl glutamate
Guar gum
Sodium bicarbonate
Silicon dioxide
Activated charcoal
Menthol
Zinc citrate
Berry Twist
The company also offers another great flavor in the form of Berry Twist. It is ideal for you if you want to go beyond the usual fresh mint taste. Kid-friendly, this version takes pride in its fruity taste featuring hints of orange and mandarin. The ingredients in Berry Twist are:
Calcium carbonate
Erythritol
Xylitol
Natural mint flavor
Sodium bicarbonate
Silicon dioxide
Zinc citrate
Rice extract blend
Sodium cocoyl isethionate
Guar gum
Autumn Spice
The Autumn Spice is also a flavor that the company makes available only seasonally. You will surely enjoy it with the aid of its ingredients, including:
Xylitol
Calcium carbonate
Erythritol
Natural spiced flavor
Rice extract
Silicon dioxide
Menthol
Sodium bicarbonate
Sodium cocoyl isethionate
Guar gum
Zinc citrate
All the ingredients used in the different flavors of Bite toothpaste bits, particularly mint and activated charcoal, are guaranteed to be vegan, pure, and organic. They perfectly suit the needs of vegans while adhering to the guidelines of the Food and Drug Administration in the US.
Level of Abrasiveness
In terms of abrasiveness, these toothpaste bits from Bite seem to have a pretty good score. Note that toothpastes use a certain method of measurement for their abrasiveness. Referred to as the RDA (Relative Dentin Abrasivity), this measurement allows scoring a product on a scale.
Leading companies and organizations in the dental and oral industry feature bandings that fall within the low, harmful, medium, and high scales. A higher score on the scale means that there is more damage and abrasiveness in the tooth's surface. The leading toothpastes that mainly focus on whitening teeth usually score around 100 to 150. Having this score means that the toothpaste is highly abrasive.
Bite toothpaste bits fall under the low category. The Fresh Mint variety, for instance, scored 43 while the Mint Charcoal is just around 24. In other words, it supports long-term use without you worrying and fearing about possible damage to your teeth.
Fluoride-free
If you spend time checking the list of ingredients in this product, you will notice that it does not have any fluoride in it. It is actually appropriate especially if you think about the commitment of Bite to stick to what is natural and help save the environment.
Note that fluoride-free is now the trend in toothpaste tablets and other types of oral and dental products. The reason is that many discovered the potential harm that excessive fluoride exposure can cause to people. If you are one of those who believe that fluoride can do more harm than good, then the removal of this component in the products of Bite is definitely favorable for you.
Bite Toothpaste Bits as a Travel-friendly Toothpaste
If you travel often, then the travel-friendly nature of Bite toothpaste tablets can be an advantage. Note that the bit does not come in a paste or liquid form. This means that you can travel easily while carrying the toothpaste tablets around.
Bite also suggests that these tablets are ready and approved for takeoff by the TSA or the Transport Security Administration. The fact that the tablets are smaller compared to toothpaste tubes also means that you can bring with you any number you need.
How to Use the Bite Toothpaste Bits?
This product also has the advantage of being quick and easy to use. To use, just bite down on the bit then wet your toothbrush before you brush your teeth with it. Wait until the chewed bit foams up. Do this two times a day and you will witness it working its magic on your teeth without causing you to add up to the burden carried by the environment.
The Packaging
As what Bite promises on its website, it aims to fulfill its mission of ending plastic waste. This is the reason why they are strongly dedicated to using plastic-free materials for the bits' packaging. It primarily utilizes self-sustaining materials, such as the recyclable jar made of glass.
With such a recyclable material, you have assurance that the entire product is zero-waste and devoid of plastic. The jar is then refilled with the bits and shipped or delivered to buyers in biodegradable packaging.
This is a great move for the environment since it means that you can prevent yourself from contributing to the number of plastic toothpaste tubes thrown on the environment. You will surely be of help if you wish to save the environment as it means you will use toothpaste bits with clean ingredients and manufactured in a laboratory guaranteed to be cruelty-free. You can also save yourself from harm as the bits do not contain any harsh chemicals.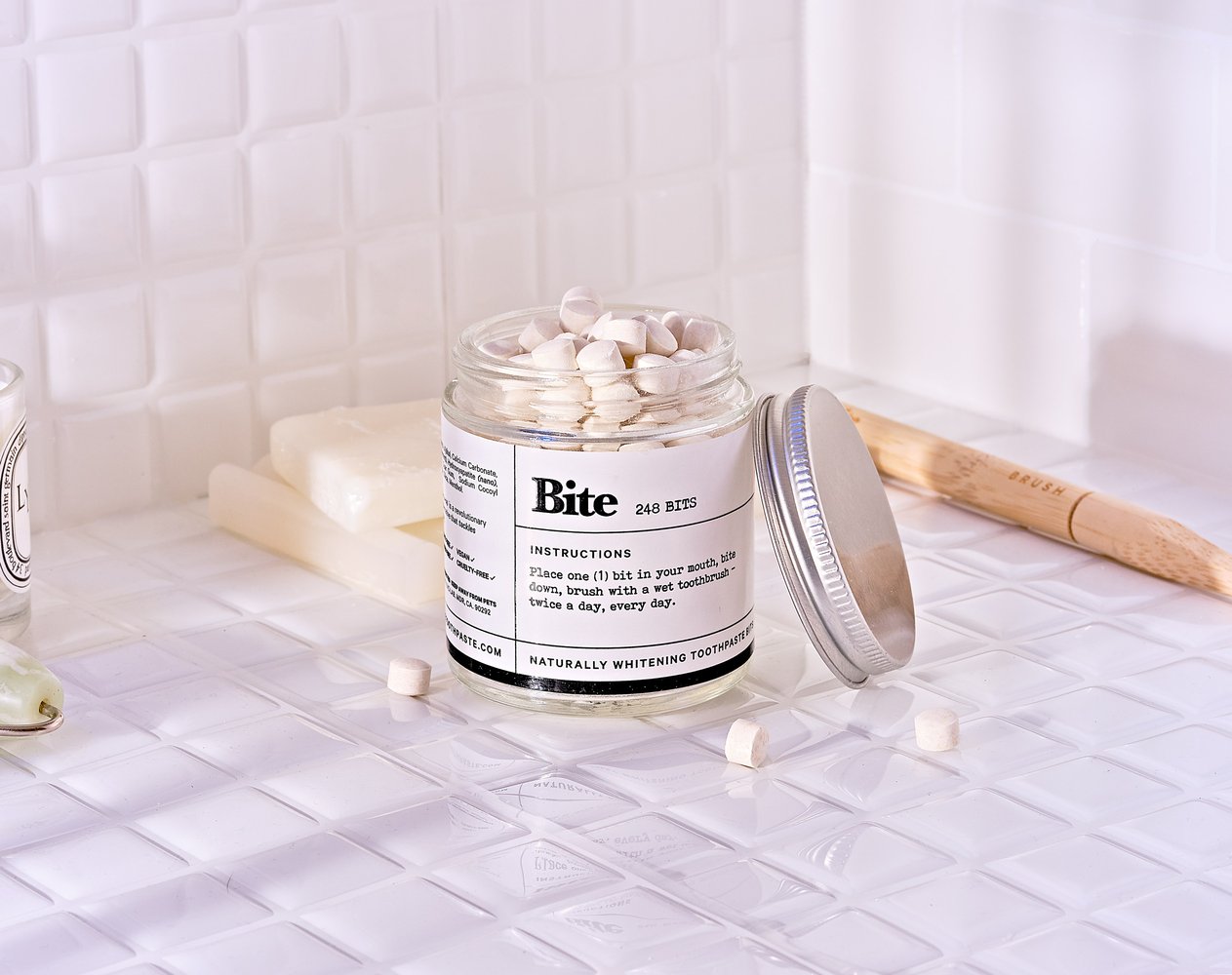 The Subscription Program
Bite also provides its buyers with a subscription plan or program guaranteed to save your teeth and oral and dental health from harm. After you sign up and subscribe to the company's program, you will receive its jar containing up to four months' supply of the toothpaste tablets or bits.
Expect these tablets to be delivered or shipped right to your doorstep. Each jar has around 248 tablets. The good thing about subscribing to the program is that it lets you avail of free shipping for all the tablets you bought.
After your four months of subscription, you will receive a refill pouch, which is 100 percent compostable and sustainable. This is in place of tablets that first came in glass jars. All products from Bite are sold individually or available for subscription. The only exception is the mouthwash, which is only available for those who subscribe to it.
Pros and Cons of the Bite Toothpaste Bits
Based on the information we have already provided so far, it is safe to say that Bite Toothpaste Bits have its set of pros and cons, including the following:
Pros:
1oo percent vegan while being free of gluten, chemicals, and fluoride, which helps save you from harmful exposure
Cruelty-free and environmentally friendly, thanks to its compostable packaging that also help save the environment from waste
Polishes and whitens teeth naturally
Remineralizes enamel while also working in balancing your mouth's pH level and fighting cavities and sensitivity
Easy and quick to use
Easy to bring or carry on your next trip
Promotes fresh breath and clean mouth
Cons:
Quite costly to use, especially if you plan to import the tablets to the UK
Frequently Asked Questions (FAQs)
Where can I buy Bite Toothpaste Bits?
You can purchase Bite toothpaste bits and its other products through the company's official website. You may also want to check out Amazon as they may carry some products offered by Bite.
Check out each product page to see an option to subscribe for all its flavors, including mint. After that, create an account and upon ordering for the products to be delivered to you.
Can I get the products right away?
If you order a product from Bite's website, then avoid expecting that it has the super-quick and next-day shipping offered by Amazon and Facebook pages. Note that Bite also considered the impact that different modes of shopping have on the climate and environment.
They weigh the pros and cons of online buying with typical shipping or online buying with expedited shipping. This caused them to conclude that fast shipping also means less delivery consolidation and increased use of fuel. With that, it is not possible for Bite to ship the product in just two days.
Should I use the bamboo toothbrush from Bite?
If you want to further up your initiative to help save the environment, then make sure to invest in the bamboo toothbrush offered by the same brand. You should use this one to brush your teeth once you have taken the tablets.
What's great about this toothbrush is that it consists of 100 percent plant-based materials. One more advantage of this brush is that it features soft bristles, which is beneficial in case you have tooth sensitivity and delicate gums.
Are they safe and suitable for kids?
Generally, these toothpaste tablets are safe and appropriate for children's use. However, this review of Bite products would still recommend the use of the tablet only on kids who are at least three years old.
Ensure that they also fully understand the basics of using chewable toothpaste tablets. Moreover, it is crucial to save them from potential harm from the wrong use of the product by ensuring that there is parental discretion.
Does the use of the product cause pain or sensitivity?
Most users who left a review on this product say that they did not experience any pain, sensitivity, or side effect from it. However, I still advise you to stop using it or consult your dentist if you notice some unwanted side effects, so you can save yourself from them.
How much is the shipping fee?
The fee you will have to pay depends on location. However, it is usually around $3.
Are there other planet-friendly products I should invest in?
If you really have a goal to save the environment, then you should also consider investing in the soft-bristle bamboo toothbrush offered by the company. It would be best to invest in one or two. In addition, you may want to purchase a couple of bottles of plastic-free and unflavored dental floss, which allows you to save money as it means you will be investing in a somewhat complete set.
Conclusion
I would like to end this review by highly recommending Bite Toothpaste Bits. This product is definitely the best alternative for traditional toothpastes that will let you fulfill your promise of being one of those who save the environment and the planet.
Subscribe in the tablet or bits, as well as a couple of bottles of the brand's floss and its bamboo toothbrush, so you will not run out of excuses to save the planet from further harm.